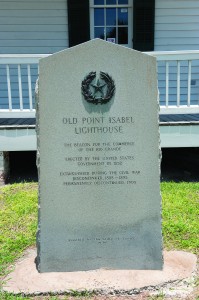 OLD POINT ISABEL LIGHTHOUSE
The beacon for the commerce of the Rio Grande; Erected by the United States Government in 1852; Extinguished during the Civil War; Discontinued, 1888-1895; Permanently discontinued, 1905
Year Marker Erected: 1936
Marker Location: 421 E. Queen Isabella Blvd.
.
POINT ISABEL LIGHTHOUSE
Built 1852 – Retired 1905
Built of brick brought from New Orleans by schooner. The beacon's 16 mile range guided ships into the harbor and to the Rio Grande, bringing commerce to sw Texas. Darkened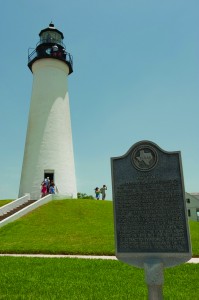 during the Civil War, it was used as a lookout by both Union and Confederate forces, and again during World War I.
Placed in Honor of the American Merchant Marine United States Daughters of 1812, Texas Society Coryne Aston Boggs Choate, State President.
Year Marker Erected: 9 February 1992
Marker Location: Tarnava Street
.
POINT ISABEL LIGHTHOUSE
The Point Isabel Lighthouse is one of the oldest functioning lighthouses on the Texas Gulf Coast. It played a significant part in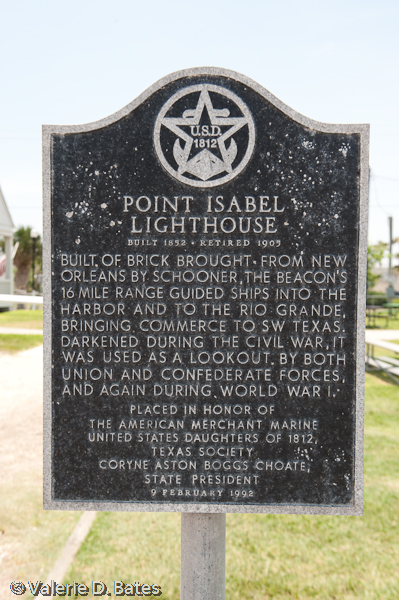 military operations around the mouth of the Rio Grande during the Civil War and for over a century, with some interruptions, has served the region as an aid to seamen.
Marker Location: Maxan Street
.
BIBLIOGRAPHY ON FILE IN THE NATIONAL REGISTER