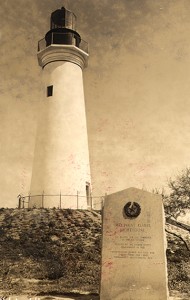 The location for the Port Isabel has long been an historic site as these markers will attest. Pictured left is the Centennial Marker in its original location on the corner of Maxan and Tarnava Streets. The photo was taken in 1952 after the Lighthouse had been restored and opened to the public by the Texas Parks and Wildlife Department.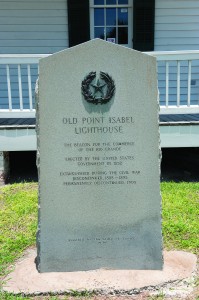 OLD POINT ISABEL LIGHTHOUSE
The beacon for the commerce of the Rio Grande; Erected by the United States Government in 1852; Extinguished during the Civil War; Discontinued, 1888-1895; Permanently discontinued, 1905
Year Marker Erected: 1936
Marker Location: 421 E. Queen Isabella Blvd.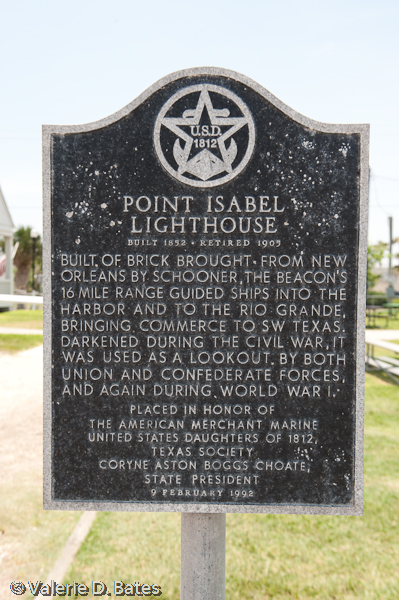 POINT ISABEL LIGHTHOUSE
Built 1852 – Retired 1905
Built of brick brought from New Orleans by schooner. The beacon's 16 mile range guided ships into the harbor and to the Rio Grande, bringing commerce to sw Texas. Darkened during the Civil War, it was used as a lookout by both Union and Confederate forces, and again during World War I.
Placed in Honor of the American Merchant Marine United States Daughters of 1812, Texas Society Coryne Aston Boggs Choate, State President.
Year Marker Erected: 9 February 1992
Marker Location: Tarnava Street
POINT ISABEL LIGHTHOUSE
The Point Isabel Lighthouse is one of the oldest functioning lighthouses on the Texas Gulf Coast. It played a significant part in military operations around the mouth of the Rio Grande during the Civil War and for over a century, with some interruptions, has served the region as an aid to seamen.
Marker Location: Maxan Street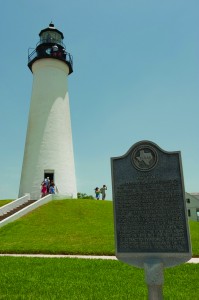 SITE OF FORT POLK
A Mexican Village developed on this point settled by Mexican Ranchers in the 1700s. The village was abandoned prior to the U. S. declaration of war with Mexico in 1846. U. S. Forces led by General Zachary Taylor occupied the point on March 24, 1846. Taylor erected a depot here to receive supplies from New Orleans. The six sided fort named for President Polk consisted of 4 sides of earthen embankments and 2 sides open to the shoreline. The fort was abandoned in 1850 but the settlement it attracted eventually developed into Port Isabel. Remnants of the fort were visible until the 1920s. (1995).
Marker Location: Tarnava Street