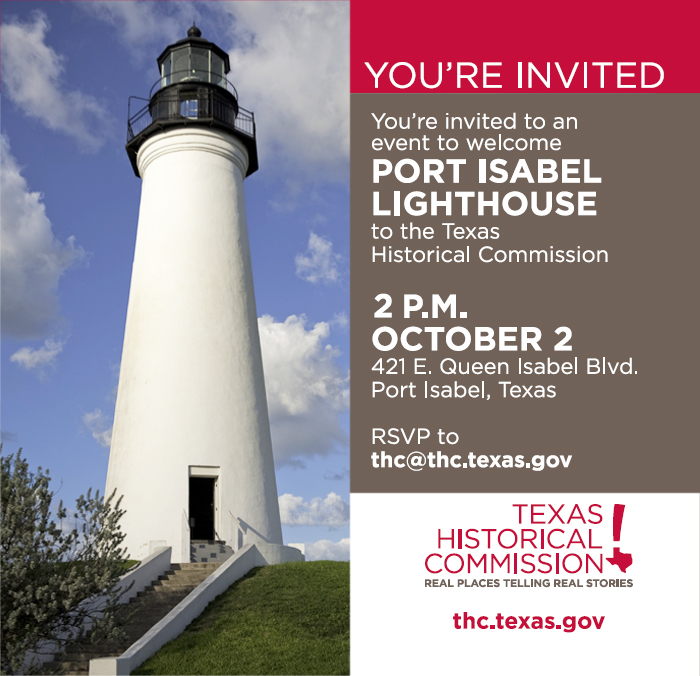 The City of Port Isabel will co-host a celebration at the Port Isabel Lighthouse State Historic Site with the Texas Historical Commission and the Port Isabel Chamber of Commerce on Wednesday, October 2 from 2 – 3 p.m.
The celebration comes on the heels of the September 1st transfer of the historic lighthouse from the Texas Parks & Wildlife Department to the Texas Historical Commission. Vice-Chair John Crane of the Texas Historical Commission will be on hand to make welcoming remarks and the Port Isabel Chamber of Commerce will host a ribbon cutting on the steps of the historic structure.
The public is invited to attend. Food and drink will be offered during the reception. The Lighthouse will be open on Wednesday, October 10/2, free of admission charge, from 9 a.m. to 5 p.m..
"We're all looking forward to the exciting future that this partnership brings. The Lighthouse is important and vital to us. The City of Port Isabel and the Port Isabel Economic Development Corporation have been partners with the State for many decades and are happy to continue in that role," says Calvin Byrd, Port Isabel Economic Development Board Chair. City Manager, Jared Hockema adds, "we're happy to co-host this event with the Texas Historical Commission and Commissioners on this important day and invite the public to join in the celebration."